Name: Vivienne Reicher
Job title: NDIS Adult Support Co-Ordinator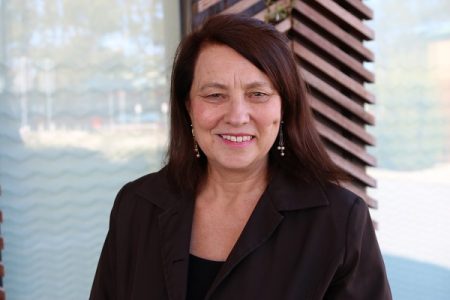 Q: How long have you worked at Peninsula Health?
A: I commenced this newly created position in May this year; prior to that, I did a locum last year for four months with Community Rehab at Golf Links Road. I moved from NSW to Victoria in May last year for family (mainly a new baby!) reasons. I have worked as an Occupational Therapist for so many years…35, with a shared celebration with a Uni friendship group over the first December weekend this year! I have worked across many health and disability fields in both public and private settings, have worked as both an employee and a contractor, and in many clinical, management and education roles.
Q: What do you do in your day to day role?
A: I am currently employed 3 days a week as the first Peninsula Health NDIS Adult Support Co-Ordinator. My job involves the provision of varied support for new NDIS participants. The usual initial contact with the new participant, or perhaps the participant's family support person, or by the local NDIS Office, is after the completion of their NDIS Plan. However, with three new clients, I have been asked to become the new Support Co-ordinator before the new Plan meeting, which has meant that I have been able to offer my support both prior to, and immediately following the Plan completion.
My work day to date has involved a lot of new role duties, including becoming better informed and more knowledgeable about the new NDIS world, and connecting with key NDIS agencies and Educational opportunities. I have been well supported by the Peninsula Health NDIS Project Worker, the Domiciliary Care Manager, and the NDIS Pre Planning Support Worker, in regards to both the NDIS and the practical, administrative and IT roles of the position within Peninsula Health.
Most days I have client contact either in person or via phone or email. My work involves meeting participants at their homes and in the community, including schools, group homes, and sites providing daily activities for people with disabilities. Additionally, I have regular contact with carers, other support agencies, health professionals and even architects, all of whom are involved with providing services for the participants.
In the next month, I will be attending my first NDIS Review Meetings, to provide the participant support, and advocacy, to help facilitate better reviewed plan outcomes.
So, in summary, I can become involved at the various time periods of a Plan, prior to or during the Plan, and with requested early or planned reviews.  
Oh, I forgot to mention that I am fortunate enough to work around a fantastic group of Occupational Therapists, who provide great social support, especially over our shared love of yummy food and great stories, over morning tea and lunch breaks.
Which NDIS participants are you working with?
I am working primarily with adults with disability and eligibility for a NDIS Plan. However, I do have two younger 12 and 18 year old clients at present, so I am also able to work with younger people.
How do you help NDIS participants achieve their goals?
I believe that my professional Occupational Therapy work experiences, my interest in the lives of my clients and their carers, my maturity and passion, my listening and negotiation skills, all contribute toward helping my participants achieve their goals, within a timely manner.
My NDIS Support Co-ordination role requires persistency and a dogged determination, to ensure that action occurs and CHANGE happens! I enjoy the essential skills of sourcing new information, and of organising new processes and connections required for the participant's new activity participation and goal achievement.
My belief in the value of new opportunities and experiences for the participants and the carers, is a vital platform for understanding and negotiating new pathways and new perspectives. I utilise my therapeutic skills to help the participant and their carers develop and foster increasing confidence and capacity to manage living with their disability, whilst living a better quality life!
What do you like most about your job?
The best part of my job is the satisfaction of advocating for and supporting the participants to achieve their new lifestyle goals, and to see them and their carers/families enjoying the process along the way!
My work is varied, and requires a flexible approach to a myriad of divergent real life situations, where people with disabilities are entering a new and often challenging world for enriching their lives with new opportunities, care and funding arrangements.
What is one stand-out moment or highlight from working at Peninsula Health?
A wonderful story is about one adult participant who wanted to employ his sister (who doesn't live with him), to help him achieve his NDIS Plan goals of having assistance with daily living activities and community participation.
When I initially met this participant and his sister, they were both rather downcast and disheartened by their changed circumstances. The participant had recently ceased his long term employment at a local Sheltered Disability Workplace, due to it being relocated several hours away. His sister had recently lost her casual shop position due to staffing arrangement changes. Years earlier she had worked in an Aged Care Facility as a direct care worker. She was currently helping her brother and their older father with whom her brother was living, with housework and medical issues and also looking for a new job.
The joy on their faces with the idea of the sister becoming a paid worker, was a delight to see. At our next meeting, several phone calls and emails later, whilst check- boxing all of the new small ABN business arrangements, observing the participant and his sister realising the dawning of a new era for both of them, was a most positive and memorable experience.
I recall thinking; wow, the NDIS has allowed this to happen! I have helped another two participants commence work trials at a disability specific farm and activity centre. I have helped another participant's mother with accessing the NDIS Portal for payment of her services, and I have worked closely with another client's architect to access the portal for initial payments so as the modifications can be implemented earlier. I am also assisting a family with finding suitable respite support for their daughter, for the first time in 25 years, as part of the participant's journey toward a more independent life, living away from her family.    
What do you like to do outside of work?
Outside of work, I enjoy spending time with my family and especially my new grand-daughter of 18 months, and am sure to have double the joy with a new life arrival in September! I am a lifelong reader, love art, practising Iyenga Yoga, walking my dogs, watching and patting the 15 year old sister cats, and my activities at home and in the garden. I love nature, especially birds, and am very interested in social issues, politics and theology! I am looking forward to my new vegetable garden this year…Sadly, I no longer have my chooks, whilst still dreaming of moving back into a more rural property in the future!